Welcome
Mapping Strategies is your partner in critical data analysis and planning. We leverage an array of tools to help your organization chart a path forward: geographic information systems; public opinion research; statistical data modeling; human subject research certification; and on-site large-scale media production.
People often ask what exactly that means.
Mapping Strategies helps people map a strategy with their data and here are three examples in a 3-minute video:

https://www.youtube.com/watch?v=njg4GN87_eM&feature=youtu.be

a quantitative public policy evaluation of the Polk County Medication Assistance Program;
a spatial analysis needs assessment using geographic information systems for Iowa Chapter of Children's Advocacy Centers;

the on-line video itself, a service that we provide to some of our advocacy and lobbying clients.
Here come the Iowa Caucuses!
Top 5 things to know about the Iowa Democratic Party Caucuses:

1. A nominee is competing for state delegate equivalents (SDE) NOT votes.
2. A caucus participant's value is a function of the SDE value of his/her precinct; the number of delegates the precinct elects; and the turnout precinct caucus  night. 

3. An individual caucus participant's SDE value varies from participant to participant: some people's support is worth more than others.

4. The caucuses are based on the electoral geography concept of neighborhood theory.  The party seeks to nominate a candidate that is electable in the general election.  More SDE value are assigned to those precincts that vote for Democrats in the general election.  The people in these precincts are often overwhelming Democrats, but sometimes they are not.  Sometimes no party voters or  Republican voters turned out in-force for a Democratic candidate in the general election.  Or as is the case this time, in the gubernatorial election of 2014, fewer areas voted Democratic, affecting the concentration of SDEs.

5. There are 1,689 separate precinct nominations; the outcome in one precinct caucus does not affect the outcome in another, unlike a primary election. 

Iowa's 1,689 Precinct Caucuses are well suited for geographic information systems (GIS).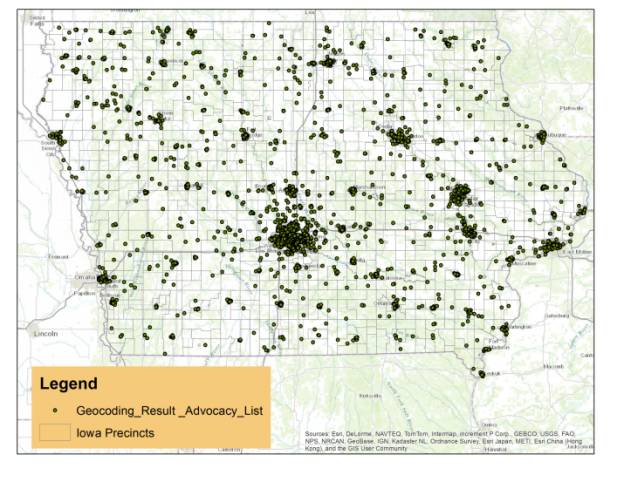 Top Five Things Mapping Strategies' GIS can help you with in the Caucuses:
1. Campaign Modeling
Get your goal SDE percentage with as few caucuses participants as possible: recall people have different SDE values.
Taking into consideration where you already have support, get your goal SDE percentage with as few caucuses participants as possible.
By appointment, we can show the system and how we tracked those data for the Howard Dean 2004 Campaign.
2. Geocoding
We can take any list and plot the addresses on a map to determine which precinct in Iowa each person lives. We have hardcopy static, interactive, and on-line ways for you to use the results provided.
Using Census data about neighborhoods for targeting is something that Mapping Strategies regularly does for clients. Knowing which neighborhoods are skewed toward older voters, younger voters, Spanish Speaking voters, etc... are useful information when doing door-to-door, having a meeting, or GOTV.
Whether you are a candidate, independent expenditure group, or a traditional advocacy group, you have lists of people you need to map and contact for Caucus night. Here individual level data processed by a geographic information system (GIS) is served up to a customer on a web browser accessible via phone, tablet, or computer.
5. Leveraging Spatial Data
Have a list of meeting locations and list of supporters who you want to let know about a meeting close to them? We can plot all the data and make the determination for each person for you.


Contact us today!